Preparing for winter weather in a changing climate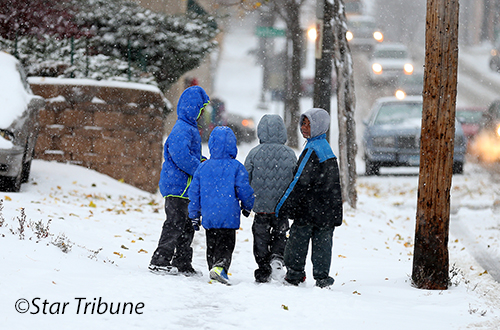 Minnesota winters provide a variety of new and exciting recreation opportunities — whether that be sledding, ice skating, skiing, or curling up under a blanket with a warm beverage. But winter also presents many hazards that we need to prepare for — including extreme cold, snow, and ice.
Minnesota's changing winters
Climate change is changing Minnesota winters. According to the State Climatology Office, most of Minnesota's observed warming has been when it's coolest. Our winters have warmed two to three times faster than our summers.
Warmer winters combined with a trend toward heavier precipitation events increase the frequency of freeze/thaw cycles, ice storms, rain on snow events, and heavy snowstorms.
How you can prepare to stay safe this winter
Here are some ways to make sure you and your family, friends, and neighbors are prepared to stay safe this winter.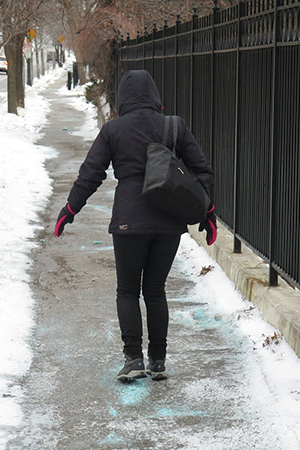 Learn about local conditions
Hennepin County helps to ensure we have the information we need to adapt to our changing climate by maintaining and expanding the Hennepin West Mesonet.
A mesonet is a system of automated weather monitoring stations used to measure local weather conditions, which can differ greatly from the region as a whole. This improves weather forecasting, helps in making informed decisions about the weather conditions, and increases our understanding of Hennepin County's climate.
Monitor current conditions and explore weather history on the Hennepin West Mesonet.
Create emergency kits to prepare for winter weather
Heavy snow or ice storms can make it hard to get out to get what you need. So, it's a good idea to be prepared to hunker down for a few days. Suggested supplies to have on hand include water, food, a weather radio, flashlight, and first aid kit. See ready.gov's list of what to include in an emergency kit.
Winter weather also increases the risks of getting stuck in your car. The Minnesota Department of Public Safety encourages anyone driving during winter weather to plan before you travel, check the weather, and be prepared. Check out their list what to include in a winter driving survival kit.
Get outside safely
As long as you're prepared, Minnesota winters are a great time to get out and explore!
To get started, weather.gov has a helpful graphic (JPG) explaining how to dress for chilly, cold, and extremely cold weather. Layers, wind resistant and waterproof boots and jackets, and hats, gloves, and scarves are key!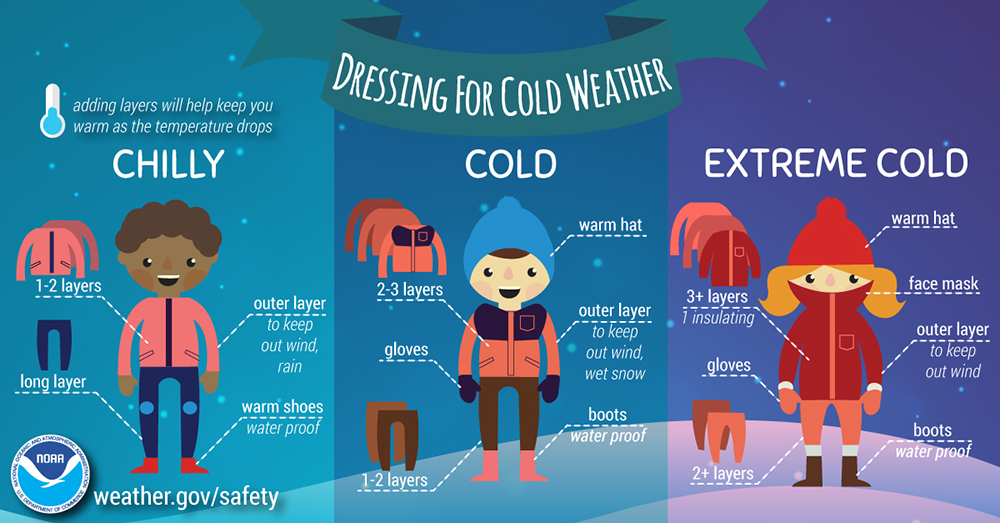 It's also important to know the signs of hypothermia and frostbite if you are going to be out in cold weather. The U.S. Centers for Disease Control and Prevention (CDC) has helpful information on recognizing the signs and taking action to help someone with symptoms.
The CDC recommends the avoid, spot, treat approach. Avoid getting hypothermia or frostbite by dressing properly and knowing who is at greater risk. Know how to spot the signs and symptoms, and treat anyone who is experiencing symptoms properly to avoid further risks.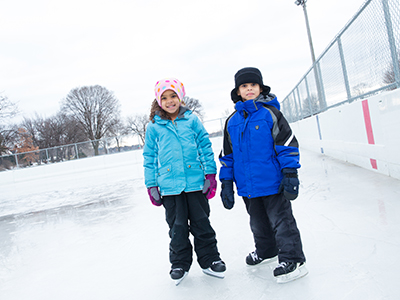 Now that you're prepared for cold weather, get out and explore! From downhill and cross country skiing to snowshoeing, fat biking and ice skating, there are many different winter activities to try. And fortunately, there are many rental options available so you can try out a new winter activity without having to invest in new equipment. Renting helps to reduce the footprint of the goods you buy and use. Find options in our Choose to Reuse article on renting winter sports equipment.
Find a place to stay warm
When the temperature or wind-chill become dangerously low, there are places in the county that are open during specified hours to provide people a place to stay warm. Everyone is welcome. See the list of severe cold warming options.
Clear snow and ice and use salt responsibly to protect water
Using salt on sidewalks, driveways, parking lots and roads can help improve safety, but too much salt can pollute our water and harm pets and wildlife. Melting snow and ice carries salt into our lakes, rivers and streams, permanently polluting our water. And with more freeze/thaw cycles and ice storms, salt pollution is a concern throughout the winter.
Hennepin County and many other entities in the state have taken significant steps to reduce their salt use. By implementing best management practices, including regularly training snowplow operators, making the most of improvements in technology and new equipment, and using a variety of techniques to deal with snow and ice, Hennepin County has reduced salt use on county roads by 44 percent in the last 25 years without compromising safety. Learn more about the county's approach to snow and ice removal.
You can do your part to minimize your impact this winter by following Clean Water Minnesota's 4 steps to using sidewalk salt responsibly:
1. Shovel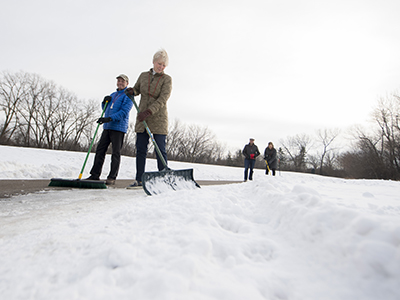 Clearing walkways before snow turns to ice will reduce the need for salt.
2. Select the right product for the right temperature
Sodium chloride doesn't melt snow below 15 degrees Fahrenheit, so use sand for traction in colder weather. Check out the salt and deicer comparison from the Minnesota Pollution Control Agency.
3. Scatter
Use salt sparingly and only where it's necessary. A 12-ounce coffee cup of salt is enough to cover 10 sidewalk squares or a 20-foot driveway.
4. Sweep up leftover salt and sand to prevent runoff and to reuse it later