Addressing the mental health impacts of climate change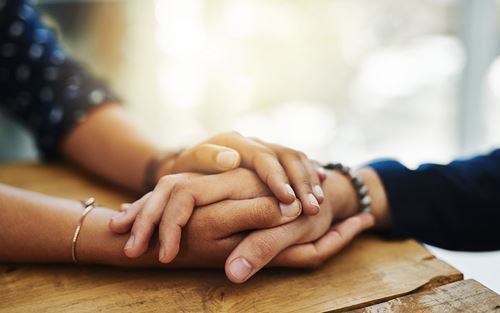 Climate change's effect on mental health is well-documented, but it can be hard to find resources to cope.
Feeling stress or anxiety due to worrying about climate change is one of the most common impacts Hennepin County residents say they are already experiencing. Learn more about climate change impacts in Hennepin County.
Climate disasters like wildfires, floods, and tornadoes cause grief, depression, anxiety, and other mental health issues. For example, victims of Hurricane Katrina reported high rates of PTSD after the disaster, many for two or more years (National Center for PTSD, 2018).
The looming threat of climate change can also take a toll — especially when combined with COVID-19 and other stressors.
Read more
How you can increase mental health resiliency
Here are four ways to increase mental health resiliency.
Name it and talk about it
We can't address the mental health impacts of climate change unless we acknowledge it. Australian philosopher Glen Albrecht coined the term "solastalgia" to name the psychological distress or disease caused by climate change, mining, or other disruptions of a familiar environment.
If you can, talk to someone you know about your climate change concerns and anxiety. Too often, we don't talk about climate change, which makes us feel more isolated and adds to the perception that taking action on climate change is not a social norm.
Tips for talking with others about climate change
Pivot quickly from negative impacts to positive solutions. Fear won't motivate the long-term action we need on climate change – a vision for a better future will.
Focus on the positive benefits that taking action will have, such as improving our health or ensuring we can continue to live safely in the places we love.
Focus on messages of empathy, freedom, and choice. Recognize that opportunity, positivity, and choice are more empowering and engaging than messages about blame and villains.
Acknowledge that people are being asked to make challenging decisions when shifting to a low-carbon lifestyle.
Get more tips in our article on talking about climate change.
Break mental health stigma
Mental health conditions are common and treatable. But stigma harms people who are affected — shaming them into silence, lowering their self-esteem, and dissuading them from seeking help. Stigma can also impact quality of health care.
The National Alliance on Mental Illness's StigmaFree campaign is trying to help:
Follow the guidelines in the chart below for how you can help by avoiding labels and using respectful language that does not define someone by an illness.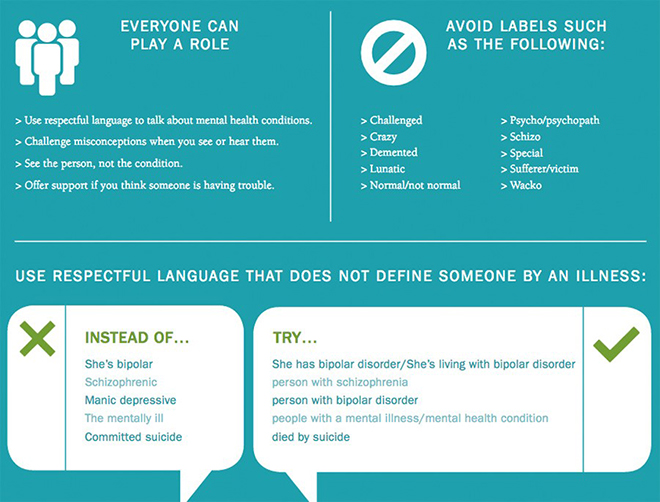 Get involved in climate solutions
Feeling a sense of worry about climate change is natural and productive — it shows that we care and motivates us to take action. However, it's important not to dwell on feelings of fear and anxiety, which causes us to disconnect or leaves us paralyzed to do anything. Getting involved in climate solutions is the most important thing we can do to move from feelings of fear and anxiety to feelings of worry and even hope.
Reframing your thoughts and getting involved in solutions
Here are some tips for reframing your thoughts:
Recognize that your way of life is part of a system that we all need to work to change. Continue to work toward living a lower impact lifestyle, but let go of feelings of guilt and blame about your individual actions.
Educate yourself about the impacts of climate change, but don't stop there. Instead, consider what your vision for a climate-friendly future looks like.
Focus on acting locally and collectively on solutions that move us toward that vision. View tips on where to focus your climate action.
Use and share mental health resources
If you or someone you know is struggling, there are many resources that can help.
Call Cope
Hennepin County Cope provides mobile, 24/7/365 support for adults and children experiencing a mental health issue.
Contact the Hennepin County Mental Health Center
The center serves Hennepin County residents and people who use county services, including:
Those with a serious mental illness or other mental health needs
Those who also may have substance use concerns
Those referred by another Hennepin County program
Those who are experiencing homelessness
Call 612-596-9438 for an appointment or referral.
Text MN to 741 741
Anywhere in Minnesota round-the-clock, seven days a week, people contemplating suicide or experiencing a mental health crisis can text MN to 741741 to connect to a trained counselor.
Call **CRISIS (274747)
In the Twin Cities metro area, call **CRISIS (274747) from a cell phone to talk to a team of professionals who can help you.
Outside of the Twin Cities, see the directory for mental health crisis phone numbers in Minnesota by county.
Call the National Suicide Prevention Lifeline at 1-800-273-TALK (8255)
Free, confidential support 24 hours a day