So, what can I do? Figuring out where to focus your climate action
When thinking about climate change, people often wonder: "So, what can I do?" Climate change is a broad issue, so addressing the climate crisis will require a lot of different people putting their skills and talents to work in a lot of different areas. Asking yourself the following questions can help you figure out where best to focus your efforts.
Questions to help you figure out what you can do
Ask yourself
What brings you joy? Focusing on something you are passionate about will keep you interested and motivated to help avoid burnout.
What are you good at? Knowing what special skills, networks, and resources you have can help you figure out how you can uniquely contribute.
What is the work that needs doing? Addressing climate change requires many people doing work on many solutions, so consider the wide range of climate solutions and what work you can contribute to.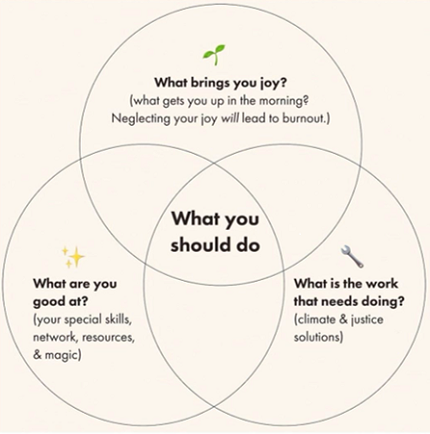 The intersection of the answers to these three questions represents a good place to focus.
And also ask yourself: What can we do?
Think about the organizations you are involved with and the systems you can influence.
Addressing climate change requires many people working on many different solutions at many different levels, so you don't need to completely change what you are doing to make a difference. Focusing on where you have influence is a good place to start.
Also consider who is your team, who are the people that you can work with to help you bring about this change. We can accomplish more by working together.
Most important climate actions
There is often a disconnect among the actions people think are effective at addressing climate change and the ones actually are. Finding ways to advance collective action and push systems to change will have the most impact in reducing emissions.
Taking action on climate change helps get people more engaged in the issue, scales to more impactful collective action, and puts pressure on government agencies, businesses, and institutions to make greater, systemic changes.
The most important actions to focus on to address climate change include:
Talking about climate change
Having more conversations about climate change helps promote social change and develop social norms, and there is ample opportunity to increase public discourse on climate change. See tips for talking about climate change to learn more.
Becoming politically and civically engaged
Most people support climate policies and climate education but are not politically or civically engaged. There are many ways to get more engaged at the local, state, and national level. You could join or support an organization working to address climate change, sign a petition, advocate for climate policies, and talk to your elected officials.
Taking actions that reduce emissions the most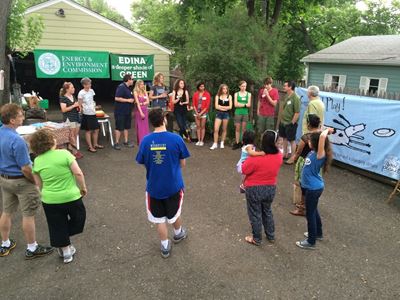 When deciding what actions to take at home and in your community, it's best to focus on actions that will have the most impact on reducing emissions. Some actions that have the biggest impact on reducing emissions include:
Flying less
Purchasing green energy
Reducing food waste
Reducing personal car use
Reducing the amount of goods you buy and practicing sustainable consumption
Switching to an electric vehicle
Switching to a plant-based diet
Upgrading household equipment to the most efficient technologies
Using smart meters
The actions you are taking to reduce emissions will have an even bigger impact if you use them as a starting point to talk to others about climate solutions. Talking about your experiences in taking action can help engage and empower others to take action.
Learn more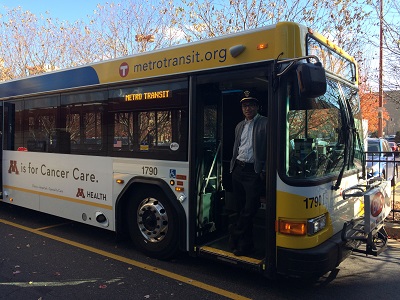 Check out the following resources to help you figure out the best actions to take to address climate change: