Community Asset Transition (CAT) Fund
Supporting community ownership and affordability of property following civil unrest
Purpose and investments
The CAT Fund provides readily available funds to help buy commercial and residential properties affected by the civil unrest following the murder of George Floyd, and to help ensure ownership of those properties is transferred to existing businesses, residential tenants within the community, and community-based owners.
The fund achieves this purpose by helping community-based acquisition/development partners buy properties identified as being at risk of market conversion.
Hennepin County made an initial investment of $3 million leveraging $7 million from the Local Initiatives Support Corporation (LISC). JPMorgan Chase, the Minneapolis Foundation, the Bush Foundation, and the McKnight Foundation have partnered to create a total funding pool of $30 million available through the CAT Fund.
To date, the Hennepin County Housing and Redevelopment Authority has invested approximately $1.6 million with LISC in three projects:
810 E. Lake Street, Minneapolis (Neighborhood Development Center)
2708 E. Lake Street, Minneapolis (Seward Redesign-The Coliseum)
3101 et al Minnehaha Ave. S., Minneapolis (Seward Redesign-Elite Cleaners)
Key goals
Produce healing, ownership, and generational wealth for those who identify as Black, Indigenous, and People of Color (BIPOC)
Support the economic recovery and resiliency of businesses in identified districts
Avoid displacement of businesses and residents in identified districts
Create opportunities for community and cooperative ownership and alternative investment models
Engage artists, creatives, and arts-based organizations as partners in visioning and rebuilding
Support the creation and preservation of affordable housing and commercial space in and around identified districts
Create job opportunities for minority contractors through participation in project construction and rehabilitation
Timeline and locations
The fund supports a buy-and-hold strategy to give communities and local businesses the time and resources to create a transformative rebuild that reflects the goals of the community. The fund is envisioned to last up to 10 years.
Money is being designated for areas in or near the cultural districts impacted by civil unrest from May 26, to June 5, 2020, that are at risk of market conversion or business displacement.
See all district maps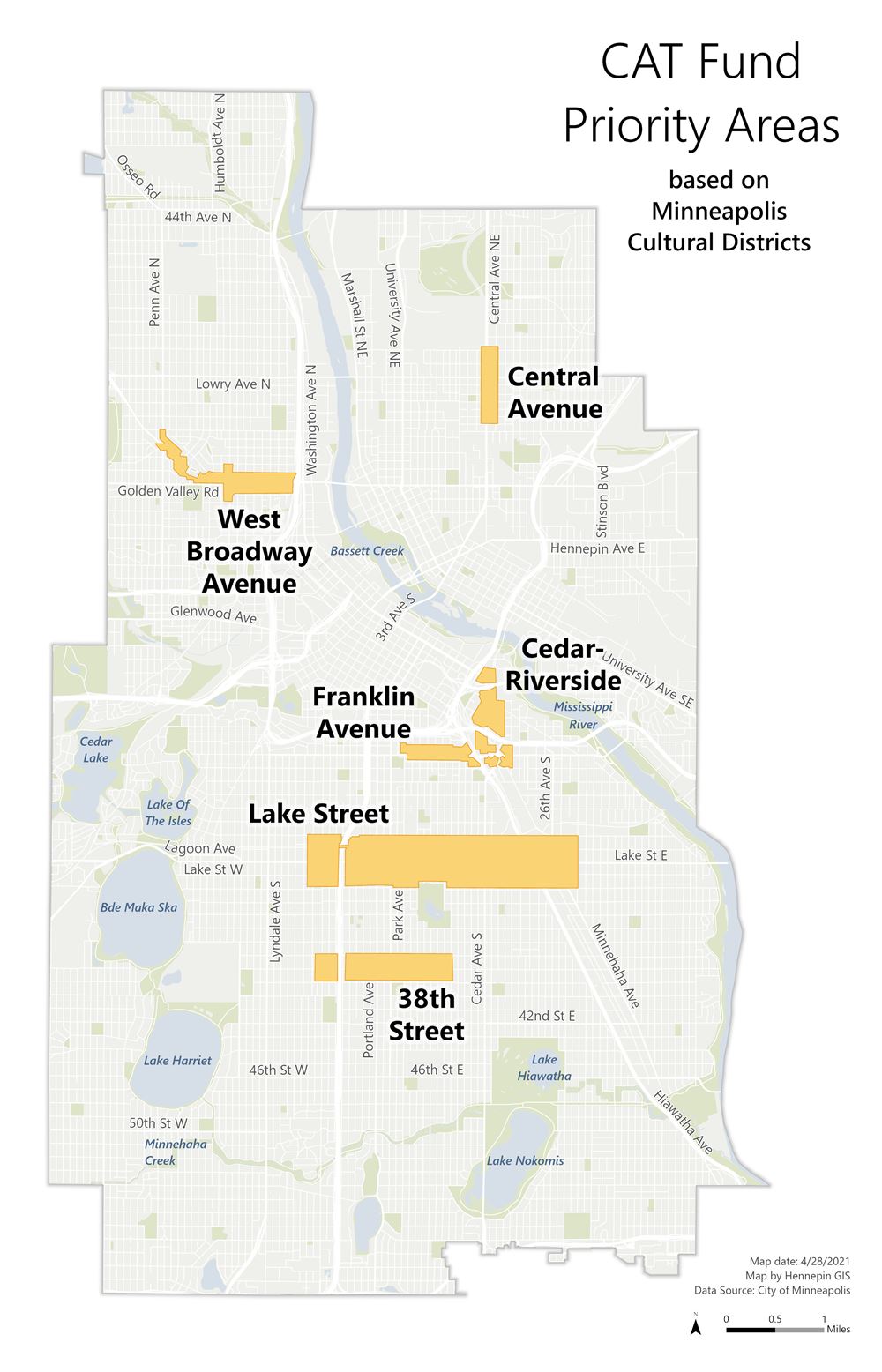 Community partners
In partnership with community-based organizations, Local Initiatives Support Corporation (LISC) identifies properties at risk of market conversion and local business displacement. Recovery loans are made to community-based acquisition partners, in amounts determined by LISC and Hennepin County, to acquire, rehabilitate, and/or operate properties to ensure that community has direct involvement in recovery efforts. Partners include:
Acquisition/development
Land Bank Twin Cities
Seward Redesign
Neighborhood Development Center (NDC)
Latino Economic Development Center (LEDC)
City of Lakes Commercial Land Trust,
And other CDCs
Creative placemaking
In Minneapolis:
Lake Street Council
Cultural Wellness Center
West Broadway Business & Area Coalition (WBC),
Native American Community Development Institute (NACDI)
In St. Paul:
African Economic Development Solutions (AEDS)
Aurora St. Anthony Neighborhood Development Center (ASANDC)
Asian Economic Development Association (AEDA)
Indigenous Roots
Financing
Hennepin County
Minneapolis Foundation
Other PRI and mission investors
Aligned investors include Sunrise Banks (small NMTC loan pool) and the City of Minneapolis Commercial Property Development Fund.
Contact
Questions? Contact Ryan Kelley at ryan.kelley@hennepin.us.