Keeping waters clean and healthy while keeping county roads safe and drivable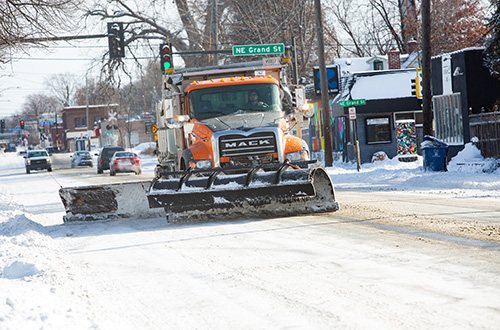 To effectively remove snow and ice on the more than 2,200 lane miles of county roads, county road operations staff use sodium chloride, or salt. Although it is fast and effective, salt negatively impacts soils and surface waters, potentially contaminating aquatic and terrestrial habitats and affecting drinking water.
Hennepin County's efforts to reduce salt use on county roads
Through proactive efforts, Hennepin County has been very successful in significantly reducing the amount of salt applied on county roads.
Over the last 25 years, the county has been steadily decreasing the amount of salt used on county roads without compromising safety. While every winter is different, the overall trend is encouraging. When using a five year average, our salt use has decreased 44% from approximately 27,000 pounds per winter season from 1995 to 2000 to just under 15,000 pounds per winter season currently.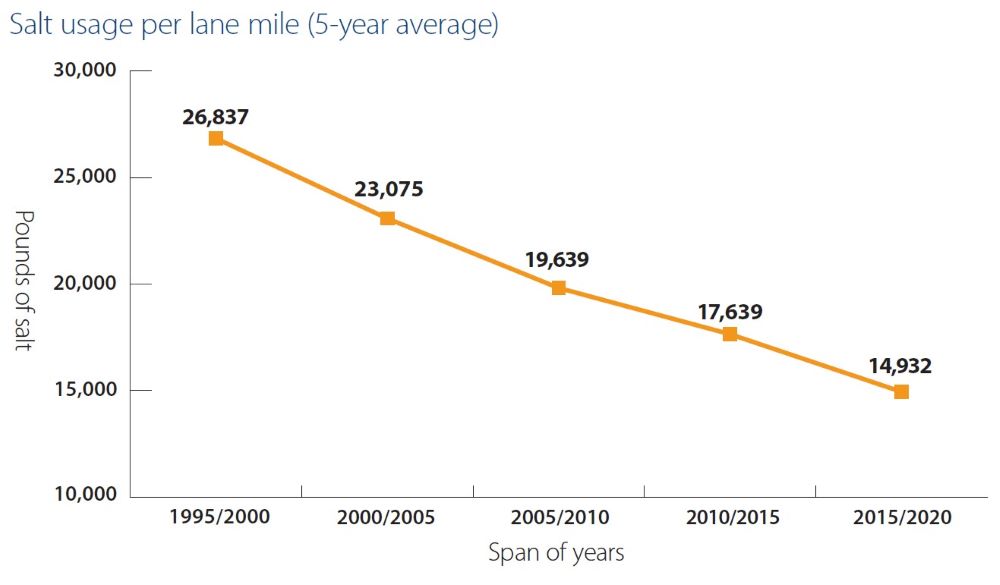 Our goal is to reduce the amount of salt flowing into bodies of water in the county while providing safety for all drivers — including first responders and emergency service providers. This goal aligns with the Climate Action Plan's goals of enhancing public safety, increasing resilience of the built environment, and protecting natural resources.
Adopting new technology and equipment
New policies and changes to snow and ice removal operating procedures have allowed crews to make the most of improvements in technology and new equipment. This includes new hardware and software on plow trucks to better monitor and evaluate salt use and assist in reviewing performance.
Applying brine
We also use brine, a salt and water solution, to pre-treat county roads to reduce snow and ice adhering to road surfaces. This allows the county to deliver the same level of service while using less salt.
Working with partners
Our efforts are not just limited to the roads we manage. The county collaborates with city and county partners on training for a more consistent regional approach to winter maintenance. All county snowplow operators receive training and are certified in salt reduction techniques. The county also works with partners on updated snow and ice removal approaches to prioritize snow removal on bridges and other high-freeze areas, which also helps to limit salt use.
Minimizing sediment pollution
We also are mindful of minimizing sediment pollution, which is the result of using abrasive materials like sand. These materials do not melt snow and ice and are easily swept off the road by vehicles. The county has reduced sand use on county roads to nearly zero due to its relative lack of effectiveness. Sand only provides short-term traction help when temperatures are too cold for salt and roads are icy.
Continuing our efforts in a changing climate
We know winter weather is only going to get more complicated with Minnesota's changing climate - with warmer winters and a trend toward heavier precipitation events increasing the frequency of freeze/thaw cycles, ice storms, rain on snow events, and heavy snowstorms. We also recognize that we must consider the long-term effects of ways we keep our roads operating.
To this end, Hennepin County will continue to leverage emerging best practices and technologies to reduce the use of salt and meet our climate action goals, protecting our waterbodies and natural habitats for a climate-friendly future.
Learn more about Hennepin County's snow and ice removal efforts.