Green jobs pathways increase access to environmental careers for diverse job seekers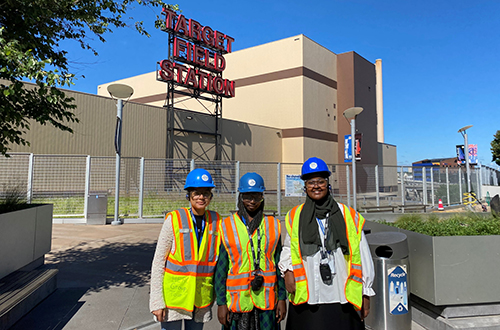 The county is trying new ways to recruit, train, and retain Black, Indigenous and people of color (BIPOC) in green jobs industries. This summer, Hennepin County piloted a green jobs pathways internship for young adults, started an apprenticeship program at the Hennepin Energy Recovery Center, and was a partner in an environmental justice internship program.
Disparities in green job opportunities
Green jobs are those involved with producing goods and services that benefit the environment or those that make production processes more environmentally friendly with less use of natural resources.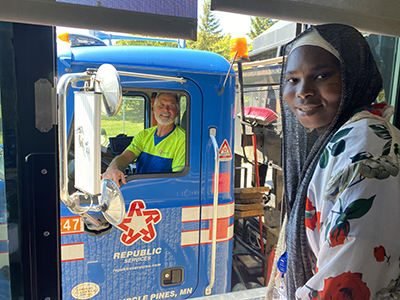 Careers in these areas are growing, according to the U.S. Department of Labor, but opportunities to experience the benefits of this growth has not been equitable. BIPOC populations are underrepresented in the environmental workforce. For example, although BIPOC residents make up more than one-third of the U.S. population, they occupy less than 16% of staff and board positions within environmental organizations and only 12% of leadership positions, according to a 2016 Harvard study.
Furthermore, Hennepin County's disparity reduction initiative has found that people of color are overrepresented in low paying jobs. Working low-wage jobs versus career-track positions limits people's ability to build long-term wealth.
Hennepin County's approach to making green jobs more accessible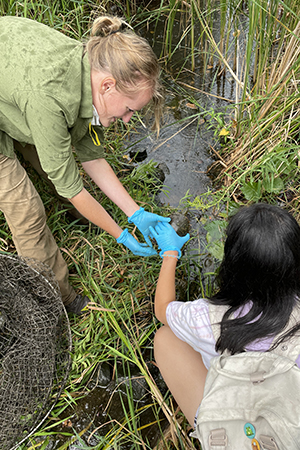 Hennepin County's Climate Action Plan includes strategies for installing and maintaining green infrastructure, electrifying and making buildings more energy efficient, transitioning to renewable energy sources, protecting and restoring natural areas, and increasing sustainable transportation options. All of these strategies present opportunities for green jobs.
The county's plan also focuses on reducing disparities and advancing equity. That's why the plan includes strategies to make green economic opportunities more accessible through workforce development and job training programs that are designed to provide training and experience focused on long-term upwardly mobile career opportunities. Here are a few examples of how those strategies are being implemented.
Green Pathways Internship Program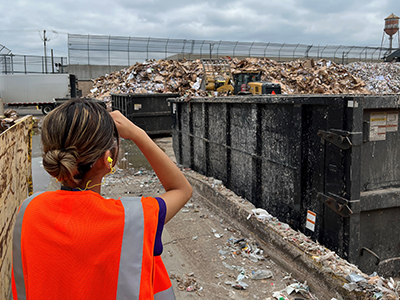 Learning from past challenges with providing green job opportunities for high school students, the county developed a paid summer job shadowing program focused on introducing BIPOC youth to environmental careers.
Three BrookLynk high school interns and an Urban Scholar college intern participated in the program. The program was successful at connecting youth with nature, creating a supportive cohort of interns, and building life and leadership skills.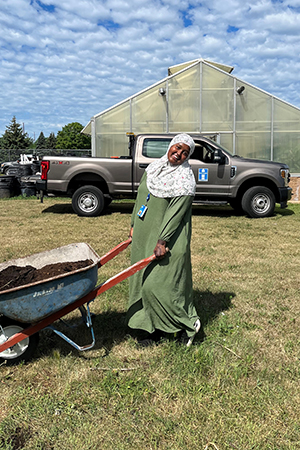 During their internship this summer, participants:
Pruned and identified trees with county foresters
Mailed environmental education literature
Conducted biological monitoring with natural resources staff
Shadowed hazardous waste inspectors
Learned how recycling works
Hosted outreach events
Surveyed haulers at waste management facilities
Learned about communications and motivating behavior change
Hear from one of the interns and learn more about how this program was developed by watching a recording (YouTube) or viewing the presentation (PDF) from the September Hennepin County Environmental Education Network Meeting.
Hennepin Energy Recovery Center Apprenticeship Pathway Program

The Hennepin Energy Recovery Center (HERC) provides 45 high-wage jobs to recover energy from waste and recycle metals. To expand diversity in the HERC workforce, the county started an operator apprenticeship program that involved recruiting and hiring three diverse candidates to participate in a nine-month training program.
The program is a unique and innovative way to create a pathway to careers in the trades while supporting apprentices with full-time pay, benefits, and union access. Participants get both on-the-job training and classroom learning along with support and coaching to navigate barriers to employment. The goal is that by the end of the program in March 2023, graduates will be prepared for jobs at HERC or elsewhere within Hennepin County facilities or public works.
Several partners are helping to make this program possible. Project for Pride in Living helped recruited participants, and Minneapolis College and Heavy Metal Academy are providing training in a multitude of trade skills, such as HVAC, heavy equipment, boilers, electrical repairs, and a variety of tools used in the trades.
Apprentices are also job shadowing at several locations to expand their understanding of career options and will gain transferable job skills such as interviewing, resume writing, inclusion in the workplace, and effective teamwork.
Environmental Justice Internship with Northside Safety Net

The Environmental Justice Internship with Northside Safety Net is a year-long environmental education program involving nine BIPOC youth from north Minneapolis. Led by Environmental Initiative, the program is supported by public, private and nonprofit partners.
This summer, Hennepin County staff taught interns about contaminated land cleanup and water resources protection. Forestry staff demonstrated tree pruning and planting and gave interns a tour of the county's gravel bed nursery.