Salvaging and reusing building materials to combat climate change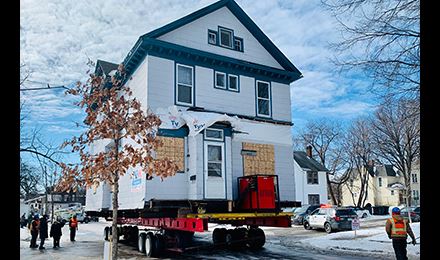 A Victorian house with beautiful woodwork, built circa 1900 in Minneapolis, was still in good shape 100 years later. Problem was, it was slated for demolition to make room for a new housing complex. Luckily, Riverfront Development Partners stepped in, bought it, and moved it to a new lot and life.
Hennepin County helped fund the house relocation through a structural moves grant. Reusing and reducing construction and demolition waste — such as keeping a perfectly good house out of a landfill — is a key strategy of Hennepin County's Climate Action Plan (PDF).
Breaking down buildings and embodied emissions
From the very start, a building has embodied climate emissions from the initial energy used for the construction and materials.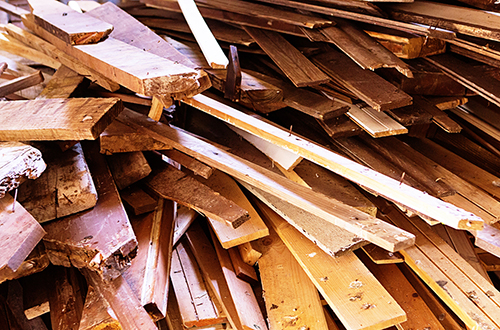 "Think of a house. The materials had to be harvested, manufactured, and transported," said Carolyn Collopy, waste reduction and recycling supervisor at Hennepin County. "When we look at all the lumber, especially in older homes, that lumber probably came from old growth forest. It took a lot longer than to grow the 2x4s you're seeing at big box stores these days."
When it's time to remodel or demolish a building, the materials have the potential to be salvaged and reused or recycled. In fact, about 85% of the materials in a typical demolition project could be salvaged for reuse and kept out of the landfills. But currently, only about 30% of building materials are reused or recycled.
"There's a lot of ways it adds up when it comes to construction and demolition waste," Collopy said. "When we salvage building materials for reuse, we're preventing the need for new materials and we're preserving and honoring all the embodied energy in the materials."
Creating market demand for used building materials
Hennepin County is focused on deconstruction to sustainably manage construction and demolition waste. Deconstruction is essentially construction backwards — carefully disassembling and extracting materials from a building to reuse in other projects.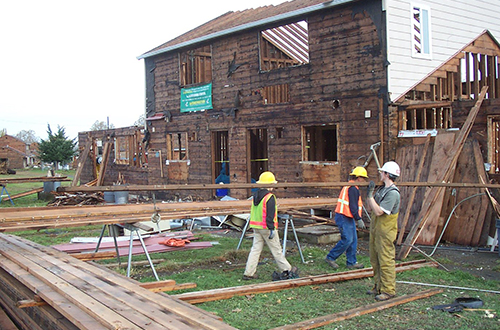 Keep in mind, recycling and reuse are market-driven businesses. The more demand there is for a material and the more cost effectively it can be salvaged and recycled into something new, the better for businesses, green jobs, and the environment.
Building market demand is key to developing the deconstruction industry in the Twin Cities. Projects that incorporate used building materials instead of buying new help build market demand. Purchasing used building materials from local salvage outlets also supports the local reuse economy.
In addition, Hennepin County supports vendors such as Better Futures Minnesota, who not only specialize in deconstruction techniques and run a used building material store but also provide job training to individuals who face barriers to employment due to past incarceration.
Making deconstruction and reuse more affordable with building reuse grants
Deconstruction takes time and costs more than demolition. Putting used building materials into designs also takes more time and effort than buying new. To help make these options more affordable, Hennepin County has funding available for a variety of building projects.
Residential deconstruction grants: Funding for residential properties built prior to 1970 to deconstruct building materials for reuse
Commercial deconstruction grants: Funding for commercial properties, including multifamily apartment buildings, to deconstruct building materials for reuse
Structural move grants: Funding to physically relocate a building to another location, avoiding demolition waste and preserving the cultural and historical integrity of the building
Used building material installation grants: A new grant to "close the loop" by funding remodel, renovation, and new construction projects that incorporate used building materials
For more information about deconstruction building reuse grants programs and to apply, go to hennepin.us/building-reuse.
Incorporating deconstruction and reuse in buildings owned and operated by Hennepin County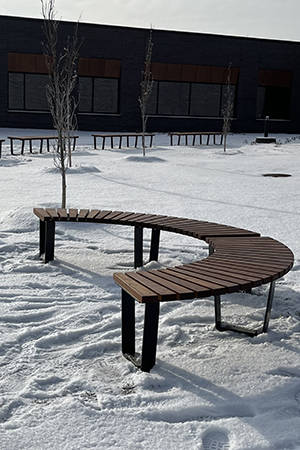 As a large organization, Hennepin County can have a significant market impact by sustainably managing its own facilities. For example, during the recent construction of the new Medical Examiner Building in Minnetonka, a general contractor used a roll-off container to send any waste material to Dem-Con for sorting and recycling. Additionally, Wood from the Hood supplied benches made from urban wood waste for outdoor seating.
"We are adopting a policy for county-owned and -funded construction projects so that we ensure that, as much as we can, we are reusing building materials," Collopy said. "And the building materials that we can't reuse, we want it to go to a recycling processor so that we can at least divert as much as we can from a landfill, so those materials can have a second life."