Elevate Hennepin
Entrepreneurs and business owners are re-imagining and re-building their businesses daily with Elevate Hennepin.
Elevate HennepinSM draws together experts, tools and programs intentionally designed to help new and established businesses gain their footing, plan for their next steps, and take their success to a new level. Through Elevate HennepinSM, Hennepin County is investing in a business support ecosystem that is shaping the region to become even stronger and resilient.
Thousands of businesses in Hennepin County have engaged with the Elevate HennepinSM resource hub, accessed technical assistance, or participated in a cohort-learning program.
On this page
---
Explore the new Elevate Hennepin Website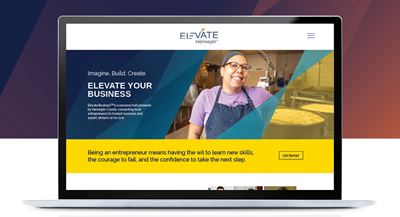 In 2023, we launched an updated version of the Elevate HennepinSM website. The new site represents the Hennepin County mission of continuous improvement and improves access to business owners looking for support.
We are always looking for ways to make it easier to find and access no-cost consulting, events, and resources for your business.
Be sure to bookmark www.ElevateHennepin.org so you can return to the updated site as you need it.
Connect with a business advisor today
Any Hennepin County business owner or resident who owns or is starting a business can access 25 hours of free consulting. Hennepin County has contracted with more than 20 professional business advisors and specialized consultants to offer free expert support to local businesses in a wide range of areas including:
Planning and evaluation
Legal
Financial
Marketing
Access to capital
And more
In practice, this could look like help researching and writing a business plan, financial or legal guidance, accessing classes and cohort-style learning, or tapping into our network of community-based lenders.
Explore the advisors below and select one that best fits your needs. By clicking "Connect with an advisor," you will be taken to an online registration form. To look through advisors and view events directly in the platform, check out www.elevatehennepin.org.
Need help navigating the tool or finding an advisor? Contact a business resource navigator at economic.development@hennepin.us for assistance.
A path of success
Vanessa Drews, owner of Cheesecake Funk, says that Elevate HennepinSM has been "helpful to my business for my peace of mind, knowing that there's somebody else in my corner that's rooting me on and helping to guide me down a path of success."
A new model of business support
The program began as a response to the COVID-19 pandemic. Guided by a diverse Business Advisory Council convened by Hennepin County during the height of the pandemic, Hennepin County teamed up with the Minneapolis Regional Chamber to partner with trusted experts that could help businesses meet the challenges of the pandemic and civil unrest.
The initiative has since grown into an innovative model to help diverse businesses in Hennepin County not only recover from the impacts of the pandemic, but to grow and build for success long into the future.
The business advisors and resources available through Elevate HennepinSM serve entrepreneurs at every level and represent the diversity of Hennepin County businesses. It is our goal to provide business resources that support all business owners, with a focus on the economic empowerment of people of color, women, and other underserved business owners that have historically experienced disparities and were further disproportionately impacted by the pandemic.
Together, we're creating a business support ecosystem that will help our region emerge from the pandemic with an even stronger, more inclusive, and resilient economy over the long-term.
Related links and materials