Path to the Midtown Greenway
Revival of a community asset
The Midtown Greenway hosts more than one million trips every year. It's an almost barrier-free commuting option for bicyclists and an attractive green space for pedestrians between the Mississippi River and the Minneapolis chain of lakes.
What's more, it's the flagship trail in the widely celebrated regional network of bikeways and walking paths that keeps Minneapolis and its surrounding Hennepin County communities atop national rankings for livability and bike-friendliness.
But it wasn't always the community gem it is today.
In the second half of the 1800s, the corridor was part of the Chicago, Milwaukee, St. Paul and Pacific railroads serving booming milling and industrial centers. By the 1990s, the trains had largely stopped running, urban decay and crime had begun to set in, and the corridor was contributing to disinvestment, lower land values, and blight in nearby neighborhoods.
Developing a new vision
In response to the corridor's post-railroad decline, Hennepin County convened an unprecedented effort with public and private partners to develop and implement a new vision for the corridor anchored in a world-class bicycle and pedestrian path.
The Midtown Community Works program was the driver of that vision and the first major initiative of the broader Hennepin Community Works program established by the Hennepin County Board of Commissioners in 1994. Since then, an array of public and private partners has come together to bring the Midtown Greenway into existence and contribute to the cascade of investment and revitalization that continues around it today.
Revitalization through partnerships
"The path to the Midtown Greenway is a story of urban revitalization through partnerships," said Peter McLaughlin, District 4 Hennepin County commissioner. "It took a lot of people, agencies, businesses and neighborhoods coming together to do something truly transformative in this corridor. Visiting the Midtown Greenway today, it's clear the transformation has been profound and that it is continuing. It's one of the great success stories of Twin Cities Region in recent decades."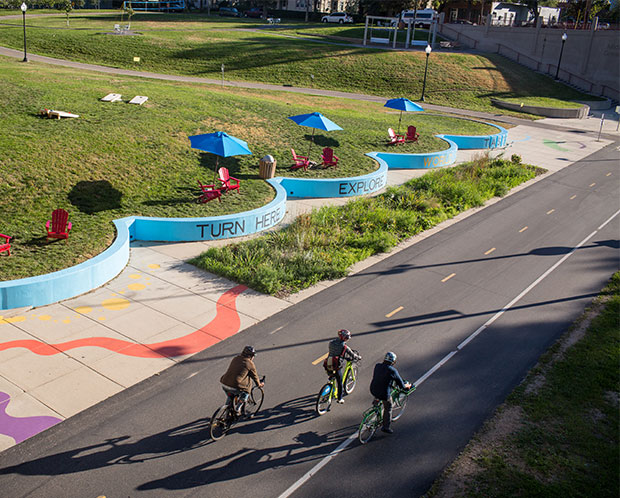 Greenway fast facts
Extends 5.7 miles through the heart of south Minneapolis
Accommodates up to 5,000 bicyclists and pedestrians a day
Contains a trail with two lanes for bicyclists and one lane for pedestrians
Features more than two dozen access points, including street-level entrances, ramps and stairways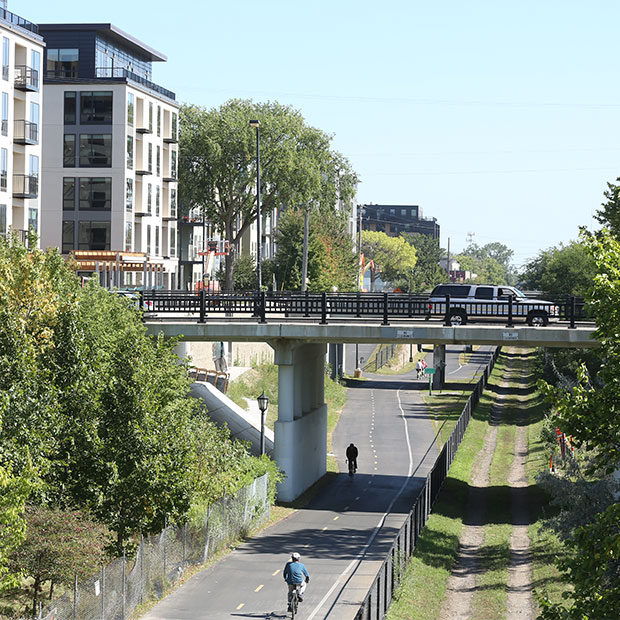 Continued corridor growth
The Midtown Greenway has delivered on the initial vision to build long-term value in struggling areas through investments in green spaces and public works infrastructure.
Community partnerships and continued investment in the corridor have helped catalyze:
$1 billion increase in property value within ¼ mile of the greenway
1.5 million square feet of new commercial space
4,390 new multifamily housing units
More than $750 million in public and private investment
Creation of thousands of new jobs in the corridor
An increase in cycling in Minneapolis
Over 5,000 plantings of trees and shrubs along the greenway
The beauty and functionality of the corridor is obvious. In 2013, USA Today named it one of the top urban bike paths in the country, and in 2015, the Rails-to-Trails Conservancy entered it in the Rail-Trail Hall of Fame.
And the greenway continues to get better. In July 2017, the Hennepin County Board of Commissioners approved up to $765,000 in matching funds for final implementation of the Midtown Community Works program, which has become a model for similar programs in Hennepin County and nationwide. Key final activities include improving wayfinding, completing key bicycle and pedestrian connections, and enhancing public space infrastructure.
Greenway partners include the Midtown Greenway Coalition and the Midtown Community Works partnership.