New committee connects public health and climate action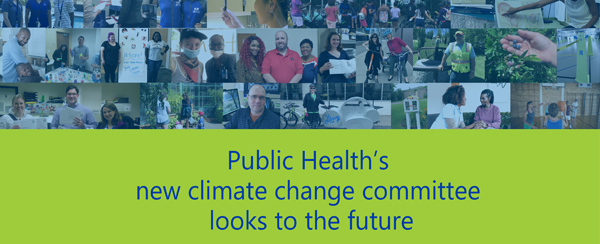 Hennepin County Public Health launched a climate action plan committee in May 2021, to determine the department's role in addressing the county's Climate Action Plan. The committee is focused on goals, objectives, and strategies within the Climate Action Plan that are pertinent to public health and align with disparity reduction.
The public health-climate connection
Changes in our climate will result in changes to health and livability for residents. Healthy and livability impacts of climate change include:
Rising temperatures and changes in climate patterns are likely to increase air pollution. Air pollutants, such as ozone, particulate matter, and allergens, pose respiratory and cardiovascular threats.
Increasing frequency and intensity of heavy rainfall events will lead to more flash flooding, which is a safety risk and limits access for emergency vehicles to respond to calls.
Sustained high precipitation will saturate soils and disproportionately impact residents living and working in areas prone to groundwater flooding. Buildings in persistently wet soils are more likely to grow mold and bacteria that reduce indoor air quality and pose respiratory threats to people in the buildings.
Extreme heat, especially in urban areas, will put historically marginalized residents at higher risk of overheating. Increasing temperatures combined with increases in precipitation will lead to increased humidity, compounding risks to residents with underlying health conditions.
Transmission of West Nile Virus, Lyme disease, and other vector-borne disease is expected to increase as the distribution of ticks, mosquitoes, and other insects change as a result of warmer and wetter conditions.
Negative mental health outcomes can be caused by the acute trauma of an extreme weather event or the gradual onset of climate change. Mental health issues may include anxiety, stress, depression, and post traumatic stress disorder.
About the committee
The public health climate action committee is made up of about a dozen employees from across the department with diverse skills and experiences.
"This diversity is an asset," says Julia Selleys, Environmental Health supervisor and committee co-chair. "Not only are members passionate about climate change, but they are each viewing the issue through a unique lens."
"I believe these unique lenses will help us think outside the box as we imagine Public Health's climate change role," adds Jennifer O'Brien, Public Health Strategic Initiatives manager and committee co-chair.
Committee members share why they joined
Here are reasons four committee members joined the public health climate action committee.
Amy Gordon, Health Care for the Homeless nurse
Climate change will disproportionately impact Amy's clients at Health Care for the Homeless and other people who already experience disparities.
"I'm an ideas person," Amy says. "I've done a lot of thinking about the connection between homelessness and climate change and have tangible ideas for ways Public Health can help."
Emily Scribner O'Pray, Better Together Hennepin, principal planning analyst
Through her work with Better Together, Hennepin County's teen pregnancy prevention program, Emily has seen the importance of bringing youth to the table.
"There is a connection between reproductive and sexual health and social justice," Emily says. "People who are adolescents now are the ones who will have to deal with the climate crisis most directly. We need youth advisory councils."
Joshua Suckow, Environmental Health environmentalist
Josh and his Environmental Health colleagues test beach water for waterborne pathogens, identify cooling options where people can go to escape the heat, and more. Some of these job duties are being affected by climate change. But it's more than professional.
"I'm from the Fargo area and flooding has impacted our daily lives," says Josh. "I joined the committee to identify ways we can respond more proactively."
Maia Seitz, Health Promotion, senior planning analyst
Health Promotion staff like Maia have tackled projects that reduce food waste, a top strategy for addressing climate change. One project involved "gleaning" community gardens for uneaten produce and donating it to food shelves. Like Josh, however, Maia's involvement is more than professional.
"The environment has been a personal interest of mine, ever since I was a kid," Maia says. "I got it from my parents. I've been wondering when the public health profession was going to start doing more about climate change."
Identifying strategies and applying the racial equity impact tool
The public health climate action committee has identified Climate Action Plan strategies that are pertinent to public health and is starting to brainstorm corresponding tactics. As they move forward, they will be applying the racial equity impact tool.
Contact
If you have questions, contact: