Hennepin County adopts Land and Water Acknowledgment and launches Tribal Flag Lending Library
On November 1, at the Hennepin County Board Meeting, the commissioners read and adopted the Land and Water Acknowledgment (PDF) for Hennepin County, historically marking the first Land and Water Acknowledgment read at a Hennepin County board meeting. The acknowledgment signifies a commitment to partnership along with actionable steps towards education, reconciliation, and stronger support of the American Indian community through county resources. One of these steps, includes the launch of a new Tribal Flag Lending Library.
The lending library is part of Hennepin County's ongoing commitment to support indigenous representation and create more opportunities for partnership and collaboration.
It is important to recognize the value and contributions of the American Indian tribes in Minnesota, and one way to do that is to have flags available for community events and gatherings that represent the tribes.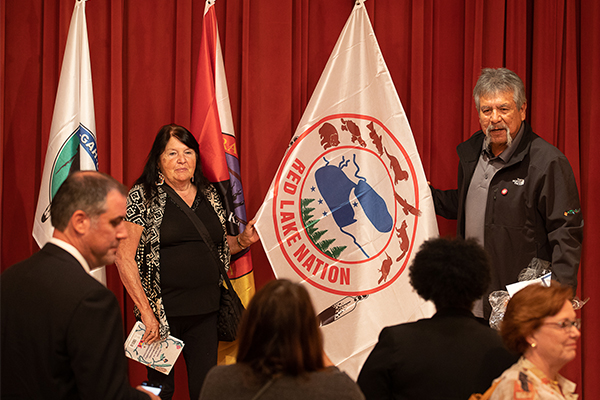 To that end, Hennepin County is excited to be starting this new Tribal Flag Lending Library. Tribal members, county staff and residents can apply for a lending agreement to borrow select tribal flags for representation at meetings and events.
Those wanting to use the library should visit the Tribal Flag Lending Library.
Celebration and dedication ceremony
On November 2, a ceremony was held to celebrate the Land and Water Acknowledgment and the launch of the lending library.
Hennepin County commissioners and administrators were joined by Tribal leaders and the community to honor and celebrate the flags and the ongoing commitment to relationship building and collaboration.
The ceremony began with a prayer, led by Tribal Representative Robert Pilot (Ho-Chunk Nation), and continued with a welcome and honor song, performed by Desirae Desnomie (Peepeekisis Cree First Nation) and Opie Day (Forte Band of Chippewas), accompanied by their son.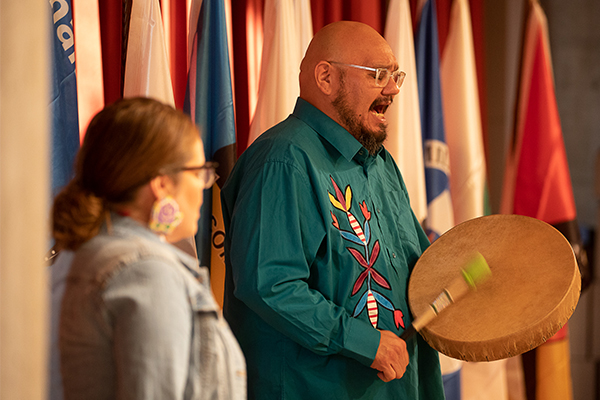 Judge Terri Yellowhammer (Standing Rock Sioux with heritage in the White Earth Nation) and Chairman Faron Jackson Sr. (Leech Lake Band of Ojibwe) shared their experiences and wisdom and spoke about the significance of the Lending Library. LeMoine LaPointe and Nancy Bordeaux (Sicangu Lakota from the Rosebud Reservation in South Dakota) also shared their perspectives on the significance of the day and the work being done by all involved, as co-authors of the Land and Water Acknowledgement.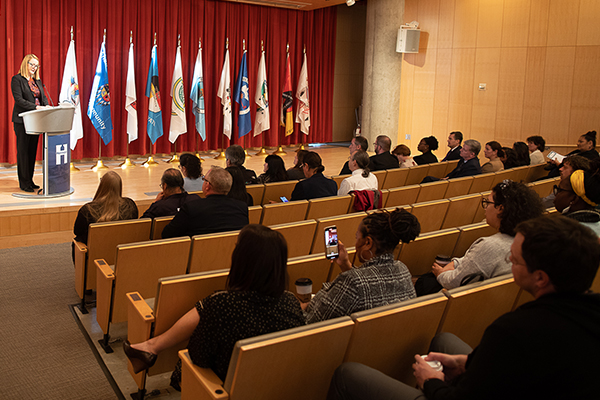 To conclude the ceremony, Chair Marion Greene read the Land and Water Acknowledgment for Hennepin County and expressed the importance of building sustainable relationships with American Indian leaders and community members.
Watch the ceremony for the Tribal Flag Lending Library (YouTube)