Helping people facing the deepest food insecurity
"Thank you, thank you, thank you," is how one mother of five children responded when she received groceries from a Hennepin County Food Insecurity project.
Another mother of two wrote, "This program has allowed my family to be creative and make some nourishing meals that we normally would not be able to afford. It was like Christmas every week when we went to pick up groceries."
More than 5 million pounds of food were distributed to more than 300,000 people, thanks to Hennepin County's Food Insecurity project that launched during COVID-19.
Using about $1.5 million federal dollars supplied by two federal programs, the American Rescue Plan (ARPA) and State and Local Fiscal Recovery Funds (SLFRF), Hennepin County allocated a total of $2.75 million to 75 agencies to provide food to underserved or struggling communities.
Human Services Program Manager Jillian Kyles said, "Even before COVID, Hennepin County had thousands of residents who were going hungry or constantly insecure about where their next meal was coming from. But with COVID, we had an extra sense of urgency. We knew there were more people who were isolated and at increased risk. We wanted community agencies to partner with us because they are trusted by their communities and were able to select culturally appropriate foods."
Through this project, Hennepin County was able to identify broader strategies to address overall food insecurity and support agencies already doing the work.
Choosing agencies with boots on the ground
"We specifically targeted agencies that had capacity to distribute food to communities with identified needs and already serving underserved or underrepresented communities, such as Black, native American, seniors or people experiencing homelessness. We also considered agencies whose food programs were addressing the specific impact of the pandemic," Kyles said.
Funds were used for everything from pop-up distribution sites to food shelves to community events.
The community partners were particularly grateful, she said. "They were already stressed by trying to address the pandemic and fulfill their missions. By partnering with us, they were able to deliver culturally appropriate foods to struggling communities, reach isolated individuals to offer food, distribute tons of food in safe, trusted environments, distribute prepared meals and leverage their buying power to get bulk supplies at lower prices.
ARPA food insecurity distribution map by zip code
Totals per zip code as shown within Commissioner Districts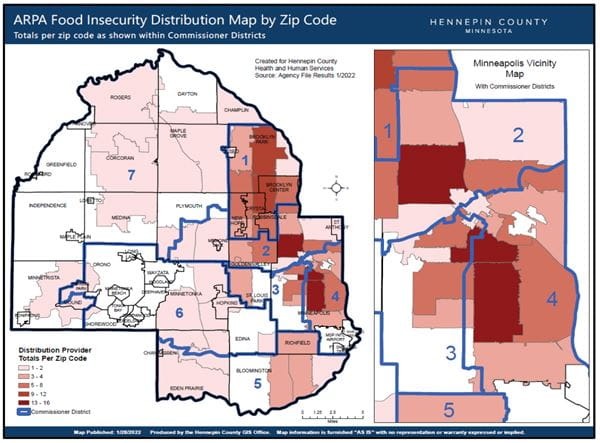 Results to date
75 agencies selected to provide food through pop-up distribution sites, food shelves, food pantries, community organizations and community events
Expenditure: $2,569,977.20
Total events held: 1,259
Total persons served: 303,682
Total meals served: 662,059
Pounds of food provided: 5,606,372
---
This story reflects Hennepin County disparity reduction priorities in health.