Finding joy in repairing broken stuff at Fix-It Clinics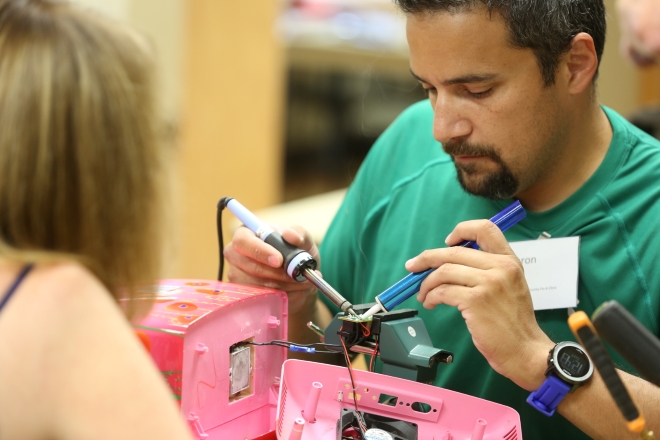 What we buy has a big impact on the climate. Creating new products requires energy to harvest, process, manufacture, and transport materials. In fact, producing and transporting goods is associated with about half of all global greenhouse gas emissions (EPA, 2022).
Learning how to repair items is an effective way to produce less waste and conserve the resources that go into manufacturing, packaging, transporting and disposing of goods. But repairing something can feel like a daunting task – you have to know how to take the item apart, find the issue, fix the problem, and put it all back together again. That's where Fix-It Clinics come in! Residents at the free clinics get paired up with knowledgeable volunteers who help them disassemble, troubleshoot, and repair their broken household items. For a decade, the clinics have successfully prevented waste and developed repair skills in a collaborative, empowering, and joyful setting.
Fix-It Clinics celebrate ten years
At monthly Fix-It Clinics, residents bring in small household appliances, clothing, electronics, mobile devices and more and receive free guided assistance from volunteers with repair skills to disassemble, troubleshoot and fix their items.
Hennepin County waste reduction and recycling specialist Nancy Lo, who coordinates the program, credits the success of the events to the numerous volunteers who help residents fix everything from vintage toys and dog harnesses to blenders and hairdryers.
"It is the volunteers who make this clinic what it is. People come with their broken stuff, some of it cherished family heirlooms, and they are delighted when they find out their stuff can be fixed. They also learn how to fix their stuff, which is both fun and empowering," Lo said.
Volunteers devote more than 10,000 hours to the cause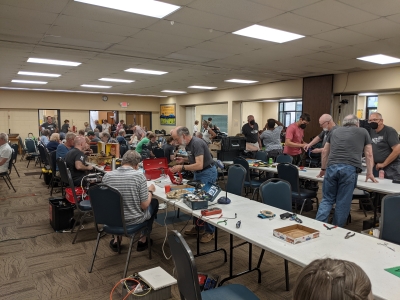 Jim and Beatrice Voss watched as Fix-It Clinic volunteer Dave Blackburn unscrewed their rattling fan and peered into its insides. With a few hundred hours of Fix-It Clinic volunteer work under his belt, Blackburn was up to the challenge of repairing it.
"It's about taking apart things, daring to fix them and staring until you see something wrong," he said.
Across the room, volunteers gathered around a table to bring Nori Un's clock back to life.
"I'm a nurse. I fix people, not things," Un said, laughing.
Un explained that she was grateful for the guidance of volunteers who are more technologically inclined than she is.
Thanks to the dedication of volunteers, Fix-It Clinics even carried on during the COVID-19 pandemic. Although in-person events were on hold, volunteers offered individual virtual repair assistance. This presented opportunities to help residents fix larger items, like doors and dishwashers, that can't normally be brought into the events.
However, volunteers and participants alike agree there's nothing like the energy of being in a big room full of people working on stuff and celebrating successful fixes!
By the numbers
Fix-It Clinics have achieved impressive results over the past 10 years, including:
More than 6,000 attendees
More than 6,635 items repaired
More than 44,000 pounds of waste diverted
79 percent of items fixed
More than 10,400 hours volunteered
Repair tips from handy Fix-It Clinic volunteers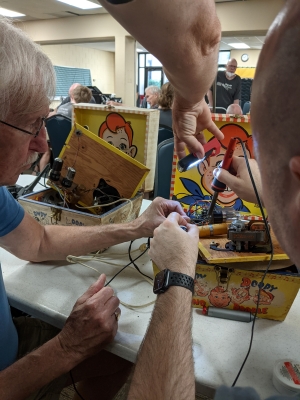 After helping hundreds of residents get their broken household items back in working order, the handy volunteers at Hennepin County Fix-It Clinics have gained some valuable insights into common repair issues. Here are some of their fixing tips:
Don't be afraid to take it apart
One of the first things to overcome is the fear of taking something apart. Remember, the item is already broken, so there's no harm in trying to fix it. Plus, troubleshooting and fixing things is challenging and fun! There are generally three outcomes when you take something apart:
You fix it!
You get lost in the disassembly. Prevent this by being methodical in your disassembly and taking lots of pictures to help you put your item back together.
You make the problem worse. If you hit a dead end, search for help online or bring the item to a Fix-It Clinic for assistance. A wide variety of replacement parts are available online or at a local hardware store.
Repair and purchasing tips
Items that seem broken often just need to be cleaned.
You will need tools and some knowledge of how to use them in order to fix things. You don't necessarily need a lot of specialty tools – a basic toolset can go a long way.
Look for replacement parts. Many items stop working due to one broken part that is relatively inexpensive to replace. You may be surprised by the variety of replacement parts you can find online or at a local hardware store.
Invest in good-quality household items and consumer goods. Higher quality items are likely to last longer, making them less expensive and less of a hassle in the long run.
Consider the ability to repair an item when purchasing it, including how feasible it is to take the item apart and how well-made the components are.
Some things that are broken may not be worth fixing. Examples include old, energy-hogging appliances such as mini-fridges and dehumidifiers as well as outdated electronics such as computers that cannot run on current operating systems. Make sure to properly dispose of these items. Search the Hennepin County Green Disposal Guide for options.
Anyone welcome at the free clinics
People of all ages are encouraged to attend Fix-It Clinics and invite their friends and family to take part.
"I have witnessed many people experience that eureka moment when they realize they can fix their own stuff!" Lo said. "Being able to repair something rather than throwing it away is a great feeling and avoids waste."
Learn more and see the full schedule of Fix-It Clinics at hennepin.us/fixitclinic.