The climate-fighting power of trees
May is Arbor Month, so let's take a few moments to celebrate the important role that trees play in fighting climate change and getting to net zero carbon emissions. Net zero carbon emissions is achieved by "balancing" a limited amount of carbon released with offsets that remove carbon from the atmosphere.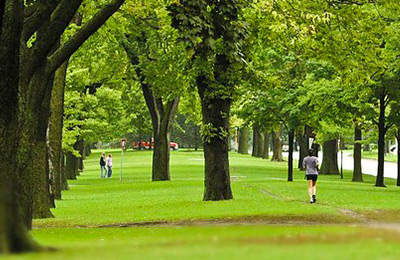 Trees remove carbon dioxide from the atmosphere through photosynthesis and store carbon in their wood. The older the tree, the more climate benefits it provides. The shade from trees also lessens the need for cooling in buildings, which reduces carbon dioxide and other pollutants from power plants.
For example, an oak tree with a 20 inch diameter — big enough that an adult could barely wrap their arms around — reduces carbon in the atmosphere by about 1,000 pounds annually. The energy that tree saves is enough to charge your smartphone about 55,000 times!
Trees provide many additional benefits. That same tree near a single-family home provides overall benefits of about $200 per year by increasing the property value, conserving electricity, intercepting and filtering stormwater, and improving air quality. Imagine the benefits multiplying for each tree in your neighborhood!
Celebrating our champions
A champion tree is the biggest documented living tree of a species in a certain area. There are many champion trees already documented in Hennepin County, including American elm, box elder, eastern hemlock, red elm, red mulberry, and sugar maple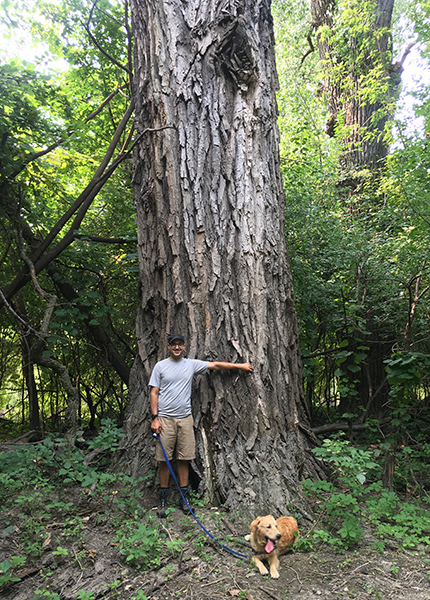 Every year, these champion trees together capture enough carbon to offset the annual energy use of one home. To capture the same amount of carbon that these big, mature trees do, you would need to plant 126 seedlings and let them grow for 10 years!
Do you know a champion?
It's possible that you have a Minnesota champion tree in your yard or neighborhood that hasn't been reported to the Big Tree Champions database. To figure it out:
Measure the tree: Watch this short video from the Minnesota Department of Natural Resources for tips on how to measure your potential champion tree (YouTube).
Check to see how the tree compares: Check your measurements against the current champion trees for your tree's species and see if it beats out the current champion.
Nominate the tree: If your tree seems to measure up and might be the reigning champion, nominate it using the Minnesota Big Tree Registry Nomination form (PDF).
Calculate the benefits of the trees near you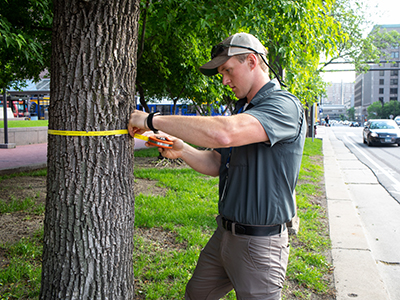 Calculate the benefits of trees near you using the tree benefit calculator.
To calculate the benefits, first identify the tree species. Our neighborhood tree bingo (PDF) and tree identification guide (PDF) are available to help figure it out!
Then, measure the tree by wrapping a measuring tape or string around the tree about 4.5 feet off the ground (about chest height) to get the circumference. Divide the circumference by 3.14 to get the diameter.
Learn how to measure big trees by watching this short video (YouTube) from the Minnesota Department of Natural Resources.
Planting trees for a changing climate
Minnesota's changing climate is affecting what trees will thrive in our area. Planting a diversity of trees will make our communities more resilient to climate change. Learn more about trees and a changing climate from the Minnesota DNR (PDF).
As the climate in Minnesota shifts, it is important to plant trees that will thrive in the future. Consider trees of the following species for planting in Hennepin County:
Bur oak
Dutch elm resistant elm varieties
Ginkgo
Horse chestnut
Kentucky coffeetree
Northern catalpa
Ohio buckeye
Shagbark hickory
Swamp white oak
Turkish hazelnut
Yellowwood
Be sure to plant the right tree for your planting location. Consider the mature height and spread of a tree when making your choice.
How to keep mature trees safe and healthy
Be aware of root zones when installing or expanding patios, decks, sidewalks, and driveways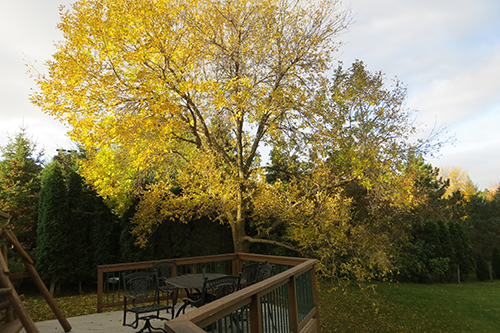 Planning to install a patio, deck, sidewalk, or expand a driveway? Be aware of the root zones of mature trees. Remember that the roots keep your beautiful mature tree healthy and hydrated. Plan your project around the roots of the trees and avoid cutting into or paving over roots whenever possible.
Protect mature trees during construction projects
If you have a construction project coming up, incorporate protecting mature trees as part of the planning process rather than cutting them down.
Treat some species of trees to keep them healthy
If you have a mature ash tree on your property that you want to preserve, you should be treating it to protect it from emerald ash borer soon. Learn more about EAB and treating your tree.
If you have any trees that are threatened by disease, there are often ways to preserve high value ones. Whether you are treating or removing your trees, you should work with an ISA-certified arborist. These arborists are trained in proper tree care by the International Society of Arboriculture. Learn about working with an arborist (PDF) and find an ISA-certified arborist near you.