Proposed anaerobic digestion facility would turn food scraps into clean energy and back into healthy food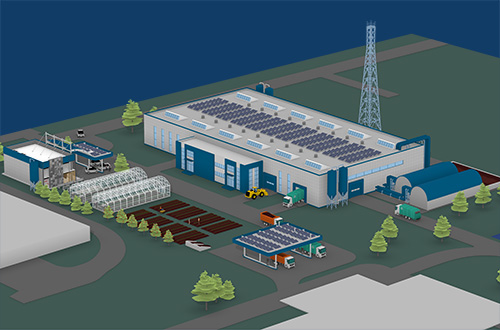 Hennepin County is proposing to build an anaerobic digestor, also called an AD facility, adjacent to the county's Brooklyn Park Transfer Station.
The facility would turn food scraps and other organic materials, which currently make up about 30% of our trash, into clean energy and compost to grow healthy food.
This would add critically needed regional capacity to recycle organics, create environmental education and green job opportunities, and help advance our healthy community, zero waste, and climate action goals.
About anaerobic digestion and the county's vision for an Eco Center
Anaerobic digestion is a proven technology that transforms organics into renewable energy and nutrient-rich agricultural and soil products.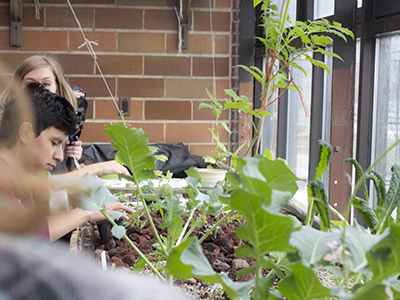 Developing organics recycling infrastructure by advancing anaerobic digestion is a foundational strategy in the county's Climate Action Plan. The foundational strategies were identified by the county's climate action teams as the best place for the county to get started on addressing climate change because they will serve as a strong foundation for the county's long-term response.
To maximize community benefits, the county's vision for this site is an Eco Center that supports our climate, zero waste, and healthy community goals.
Community partners could use the site for urban agriculture. The fertilizer, compost, and excess heat created in the digestion process could be used in onsite greenhouses and aquaponics systems. The Eco Center would also provide green jobs training and tours for students.
How anaerobic digestion works
The Hennepin County anaerobic digestion video (YouTube) explains the process of anaerobic digestion and the benefits the Eco Center facility would provide.
The video explains how organic waste collected from homes, schools, and businesses would be brought to the facility, shredded, and loaded into a digestion tank. In the tanks, microorganisms would work to break the materials into two products:
Biogas, which can replace fossil fuels for heating or be converted into a vehicle fuel that has the lowest carbon footprint of any vehicle fuel.
Digestate, which is separated into liquids that can be used to replace fossil-fuel-based fertilizers and solids that become a nutrient-rich compost to help plants grow.
The video also shares the county's vision to establish an Eco Center that provides educational experiences, houses a green jobs learning center, includes an on-site urban farm and greenhouses, and delivers healthy food to our hunger relief partners.
Learn more about the project
The county needs the state funding and community support to make this vision a reality. Learn more about this project on the anaerobic digestion facility web page.