Staff highlights
Felicia Walker and Noah Longo - July 2023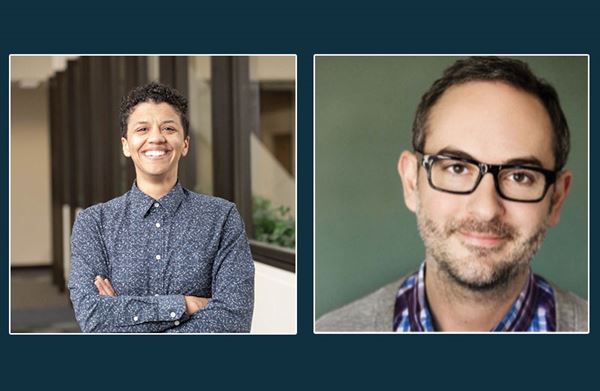 Adult Representation Services is not your typical law firm. Working here requires passion and a true dedication to helping clients.
"What we do here changes lives," said ARS Director Jeanette Boerner. "These amazing people make this work possible."
Adult Representation Services is a civil public defense agency – the only one of its kind in Minnesota and one of very few in the nation. It is an independent Hennepin County organization that provides advocacy to clients experiencing poverty in civil legal matters like child protection, guardianship, or eviction.
For Felicia Walker and Noah Longo, that was exactly the work and culture they were looking for.
"I really wanted to find a job where I felt like I was making a difference," said Longo (he/him), an ARS paralegal.
Walker (they/she), an office specialist, cited the need for ARS and the services provided.
"We support those who haven't been supported before," Walker said.
The anchors of our department
Walker joined Adult Representation Services as an office specialist in 2022 and primarily supports the parent representation practice area, which includes work in child protection and child support contempt, assisting with different tasks as needed.
As an office specialist, much of Walker's work is behind the scenes – the kind of support that ensures Adult Representation Services operations run smoothly. An average day includes monitoring communications, tracking inventory, creating documents and templates, and helping attorneys with record management. Walker describes their role as "finding a need and filling it" and "anything that can help the attorneys run things smoother."
Some of Walker's work is client-facing, such as responding to inquiries, scheduling meetings, and taking phone calls. The importance and impact of their role hits home "when clients call and say, 'Oh my gosh, you're the first person to answer the phone!'" Walker said.
As a paralegal, Longo works with multiple Adult Representation Services attorneys on a variety of case types. He frequently handles court filings, scheduling, and information requests. He also assists with trial preparation and takes notes at trials.
"Every day is different…it keeps you on your toes," said Longo.
Even if a case does not end up going to trial and the materials are not needed, Longo said it still feels meaningful. He's just glad that "people have an opportunity to get help if they need it…it makes such a difference to them."
ARS Director Boerner calls Walker and Longo and all the office specialists and paralegals "the anchors of our department."
"Their ability to effectively engage with clients, prepare cases for litigation and manage a large volume of client information is vital to ensuring good outcomes for our clients," Boerner said. "Behind every successful attorney is an exhausted administrative professional."
Balancing the highs and lows
Walker and Longo both said the most challenging part of their work was the emotional impact of client situations.
"The work is hard because it's hard to fight for people…when we don't win, [it can mean] someone gets evicted," he said. "I'm well-versed in compartmentalizing."
It helps to remember the positive impacts he has made, like a recent case that was dismissed in the client's favor. "It was so huge," Longo said. "It felt like an amazing thing…I feel so lucky to be a part of the advocacy."
Being a part of this work "can be very taxing emotionally," said Walker.
Walker mitigates the emotional toll with hobbies outside of work and by reframing what they can do to help the clients. "How can I do my role to support them?" Walker asks themself.
For both Walker and Longo, the culture of teamwork, positivity, and inclusion at Adult Representation Services helps keep them resilient.
"You feel supported," said Longo. "And it's earnest."
There are frequent staff events and gatherings, like last month's potluck to celebrate Pride and an outdoor celebration of a recent U.S. Supreme Court ruling related to the Indian Child Welfare Act.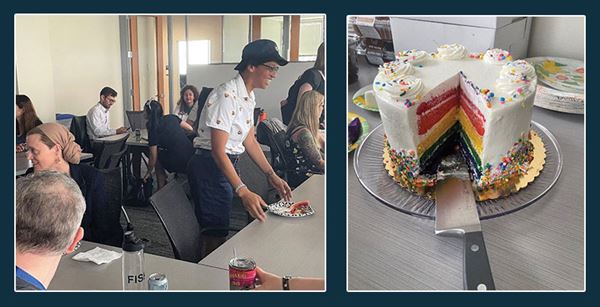 "The people that work here do really care about the people and the work," said Walker. They explained that many clients have had negative experiences in the past that have sowed distrust in the legal system. "Adult Representation Services tries to break down that wall [of distrust]. ... Attorneys care for their clients and work long hours, doing everything they can."
Even when the work is frustrating, people don't complain about the job, Longo said. Instead, there's a sense of community, commiseration, and a desire to right the wrongs of the world.
"Everyone has a passion for zealous advocacy," he said. "Everybody who is here wants to be here."