In honor of Women's History Month, we honor those who made our own journeys possible - March 2023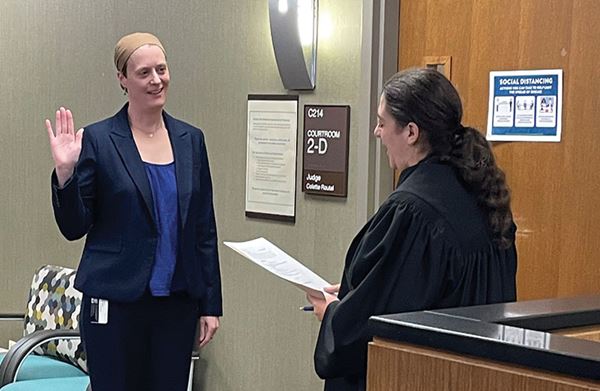 Written by Jeanette Boerner, ARS Director
Last fall, colleagues celebrated the swearing in of our newest attorney team member, Julia Durst. Julia has joined the ranks of bright, bold, and passionate women who have dedicated their career to public service and the noble practice of law.
As I reflected on Women's History Month, I thought of Julia's swearing-in, the role of women in our office and the broader legal profession, and my own journey.
I knew I wanted to be a lawyer from age 12. I love debating, fighting for the rights of others, and creating systemic change. I have a supportive father who said and continues to say, "Anything boys can do, girls could do better." While it is an archaic (and not very inclusive) quip, it gave me the fortitude to follow my dreams in a profession that was heavily male dominated.
Between 1950 and 1970, only 3% of lawyers in the United States were women, according to the American Bar Association. By the 1990s, the number rose to 29%. By the time Julia was sworn in, in 2022, 38% of attorneys identified as women.
81% of our attorneys identify as women and 62% of our leadership staff identify as women. I am proud of these percentages.
Julia came into the legal field after a decade as an addiction counselor, "seeking a different way to advocate for others."
"I have many labels – woman and attorney are just two," Julia said. "To me, that multifaceted existence is both the legacy and the future of women in the law. We come with layers of personal and professional experiences that inform our work. The legal field is better because of it."
In the celebration of women in the legal field – a population that worked for decades to break through a glass ceiling – we have not lost sight of our male and non-binary colleagues. Their respect and support has been essential to the journey. We are all stronger because we work together. Just as my father saw my potential and value, I see every individual at ARS as an asset to our agency and mission – regardless of gender.
As a testament to our support of each other, I recall many staff – of all genders – circling Julia with support and pride as she took her oath and became another strong female voice in the law. But I'll let Julia tell you how she sees it:
"The women I work with at ARS inspire me daily—not just as professionals, but as human beings. They are, without exception, smart, analytical, and quick-witted. They are athletes, mothers, bookworms, gardeners, world travelers, activists, and artists. The women I work with make the right kind of noise. To use Jeanette's words, they are bright, bold, and passionate."
Historical Minnesota women in law:
Martha Angle Dorsett
Minnesota's first female lawyer.
After being denied the right to practice law in Minnesota in 1876, she successfully petitioned the Minnesota legislature to change the state law governing attorney admissions.
Lena Olive Smith
The first African American woman licensed to practice law in Minnesota in 1921.
She was the only African American woman to practice law in the state until 1945.
Margaret Seelye Treuer
The first female Native American lawyer in Minnesota and the first Native American judge in the country.
Related articles