Guardianship attorney celebrates success, shares expertise with colleagues - April 2023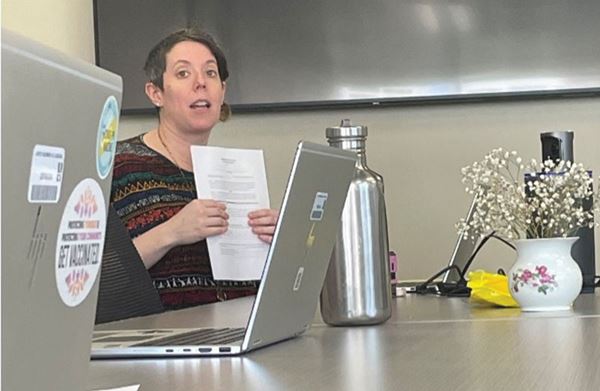 Last month, Emily Weichsel celebrated a major win: A court granted her client full independence, ending 20 years of guardianship and one year of legal wrangling.
"The message wasn't, 'You don't have a disability anymore,'" Weichsel said. "It was focused on how you rely on the people you care about and who care about you for support in making decisions for yourself. So we were able to focus our case on Jenny* living in her community and using support and using good judgment."
In Minnesota, people subject to guardianship have been deemed unable to make their own decisions about medical care, housing, or finances and have been appointed a guardian by the courts.
Many of ARS's guardianship clients are young adults with a disability who are under the court-ordered care of a guardian. Another portion of clients are adults who have developed a mental or health condition – for example, dementia or traumatic brain injury – and are no longer able to care for themselves or make decisions.
Weichsel, an attorney on the Adult Representation Services guardianship team, has worked on a spectrum of guardianship cases during her career. She has seen what happens when a person's decision-making ability is impacted – and how advance planning can make a difference.
Earlier this month, in light of National Healthcare Decisions Day, Weichsel led a hands-on workshop for ARS colleagues to craft their own healthcare directives. The aim was to broaden their professional legal skills and to provide information they can use in their personal lives.
Weichsel has devoted her career to giving a voice to the vulnerable. As an attorney for Legal Aid, she practiced elder law. In private practice, she focused on probate and estate planning. Now she represents ARS clients in guardianship cases.
She joined ARS in January 2022, just as the agency was launching its guardianship practice area and building its team. What attracted Weichsel to ARS – and what sets it apart from other legal agencies – is that the staff includes case management assistants and others whose job is to connect clients to outside resources. The legal role may be similar to her previous positions, but the wraparound help and service to her clients is above and beyond basic counsel.
"It's been awesome for our clients to have case management assistants who are familiar with navigating government resources. We've had really good outcomes for our clients because we have that asset," Weichsel said. "Most guardianship attorneys are solo or work at small firms, so they wouldn't typically be able to offer those holistic services."
Weichsel's courtroom success last month exemplified the positive ways ARS can impact a client's life. In that case, Jenny – who has developmental disabilities and fetal alcohol syndrome – is in her late 30s and had been under guardianship for 20 years. She lives in supportive housing in her own apartment, has a job, and has been working hard toward independence.
"I think everyone in the hearing was crying," Weichsel said of the happy ending. "It was amazing. That's what we want for everyone."
Weichsel is hopeful that by educating others on healthcare directives and guardianship issues, there can be more happy endings and fewer difficult ones.
"I've seen the downside of these conversations and have sat with adult children who are upset because they don't know what (their parent) wanted," she said. "So it's important to know about exercising your autonomy now and getting a say about what happens later."
More information